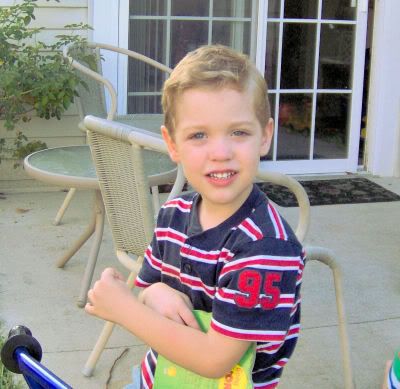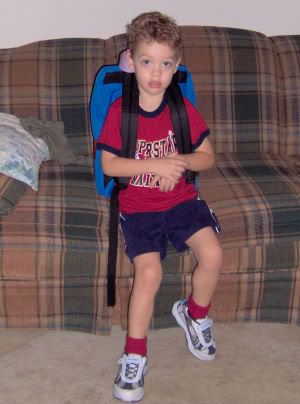 Today was our baby's very first day of school. I have been meaning to update on Carson for two weeks now but things have been crazy so this will be his "official" update post! In the beginning of the summer, one of Eli's physical therapists referred Carson to be evaluated by our city's special education preschool program due to his ADHD diagnosis and his behavior during Eli's PT sessions. We finally had a meeting with the Director of Special Education on 8-7 and set-up a multi-factor evaluation for Carson on 8-14 and 8-15. A pychologist came to the house for a 2 hour eval on 8-14 and then we went on-site to the preschool/elementary location for a 3 hour eval on 8-15. Carson did really well and Al and I were impressed with how he handled the 5 hours of testing. They observed him, tested him, had him interact with other children and alone, and had us fill out questionaires. He had to have one severe delay (two standard deviations below his age level) or two moderate delays (one standard deviation below age 3y2m) to qualify for the Special Education preschool program with the school district. Al and I were worried that he wouldn't qualify........it was unnecessary worry.
We went back without Carson the afternoon on 8-15 to discuss his evaluation with the PT, OT, pychologist, SLP, and special ed director. Carson qualified for the program and received a few new diagnoses. First and foremost he now has the label of
Sensory Processing Disorder
which we have suspected for awhile but were surprised at how severe his delay in sensory was compared to other 3 year olds. Carson also had a severe delays in behavior, emotional, and social areas which can be attributed to his lack of experience in social environments and his ADHD diagnosis. He has a moderate delay in fine motor focused soley on writing and drawing tasks. Carson will get OT for all of these areas right in the classroom during his normal preschool day. He shocked the SLP with his language skills. By the time the speech test rolled around Carson was tired and uncooperative. He got up to the age level of 5 years old without missing a single question and then started lying to the SLP. He told her that a dog wasn't an animal and he wasn't answering any more questions. She said we could stop the test and she would mark in his file that his score wasn't an accurate reading of his capibilities and his speech and language skills were higher than a 5 year old! YAY Carson....that's our boy! The city preschool program is free for children who qualify and he gets to go 4 days a week from 8am until 11am. The bus picks him up at our house at 7:40 and drops him off at 11:35 each day. There are 11 children in his class. Seven of them are special needs and 4 of them are "typically developing" children. They range from ages 3-5. We finished his
IEP
on 8-18 and we are happy that he has this wonderful opportunity to learn and grow.
Now back to the FUN part......Today was his very first day of school. He was super excited last night and made sure bath time extended extra long so he could stay up late. Carson picked out a red baseball T-shirt and blue shorts to wear with his new Thomas the Train shoes. He also insisted on Scooby-Doo underware this morning. We woke up bright and early at 7 and had waffles for breakfast and chocolate milk for a special treat. He took his Adderall, brushed his teeth, put "Daddy gel" in his hair, and then put his "vest" on so we could go outside and wait on the bus. He grabbed his Superman backpack and ran outside to play on his tricycle and wait on Mr. Smith and his big yellow bus. We took loads of pictures. He didn't cry but wasn't smiling when he got on the bus. His teacher Mrs. Linn sent a note home that he did great all day and didn't cry at all. He was "busy but followed directions". Carson was happy and is ready to go back tomorrow! Enjoy the pictures now that you have gotten through this novel I've written. My baby's growing up!!!